Thai visitors came to E.P factory
Thai visitors came to E.P factory
2019-07-25 15:30:00
E.P

Original

1042
Summary :The Thai clients visited the BBQ charcoal briquette production line, Shisha charcoal tablet press machine, biomass briquette production line.
High quality products and a reliable manufacturer are important factors that attracts customers to visit. On July 22, 2019, Thai clients came to E.P factory for a visit. E.P general manager on behalf of all the staff expressed warm welcome to the Thai customers. Accompanied by the principal in charge of each department, Thai clients visited our workshop where the rotary carbonation furnace, the shisha charcoal production line and the barbecue charcoal production line are displayed. The customer was impressed by the machines' good performance. At the same time, E.P technicians also gave satisfactory answers to customers' questions.
E.P professional working staff introduced the rotary carbonation furnace to the customer in detail. Generally, a carbonation furnace will be equipped with advanced smoke purifying and recycling system, which is more eco-friendly and energy-saving. What's more, a carbonizing furnace is also equipped with frequency motor and inverter, to make it very convenient and easy for operator to adjust the rotating speed via electric distribution panel.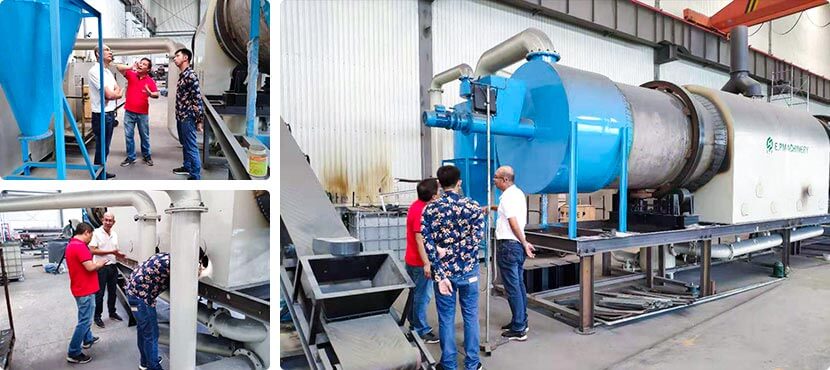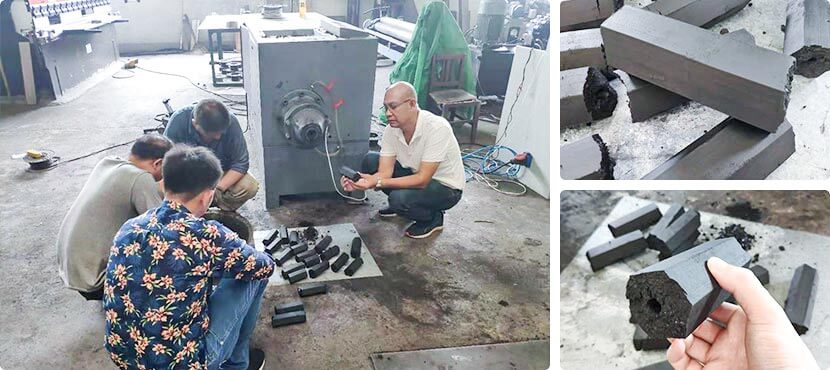 The finished shisha charcoal tablets made by our equipment are high-density and clean products. In addition, if the customers want to make different shapes of charcoal tablets, we can customize molds for them according to their requirements.
The charcoal briquettes produced by this charcoal briquette extruder machine are with high density, smooth surface, uniform length etc. It's regarded as a kind of "green energy". The automatic cutter for the charcoal briquette extruder machine is specially designed by our company. It can help clients to save a lot of labor cost.
The customer tested the quality of the hookah charcoal and the barbecue charcoal and is quite satisfied with the quality of the finished product.
The customer had a good knowledge of our company and products, such as the BBQ charcoal briquette production line, Shisha charcoal tablet press machine, biomass briquette production line and ball press equipment etc. The two sides will also have in-depth discussions on future cooperation. We are willing to carry out extensive and sincere cooperation with friends of various fields so to realize a win-win cooperation and mutual development, and together to create a promising future!
Phone
+86-13673361755
Whatsapp
+86-13673361755
Telephone
+86-371-8611808
Email
sale@ep-machine.com
Address
Shenglongjinzhonghuan Building, Zhongyuan District Zhengzhou City, Henan Province, China.