Air conditioning assembly line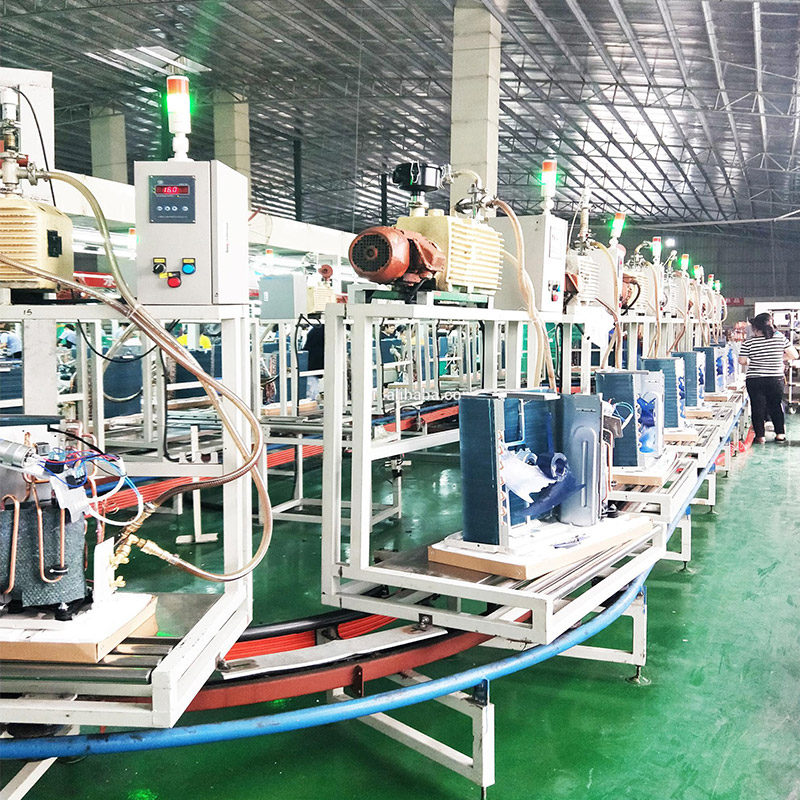 Air conditioning assembly line
Details
Product Description

During the manufacturing process of air conditioner, assembling work is the last step. The assembly process includes assembly, adjustment, inspection and test. Finally, the design function of the air conditioner can be realized.
Working Process

The process design of air conditioner assembly production line: Manual online → Air conditioner initial installation → Annular vacuum pumping → Test leak detection → Air conditioner liquid addition → Air conditioner assembly → Safety inspection → Leak test →packing → Manual offline

Outdoor Machine Assembly Process
Back-end assembly, Sound-insulation part, Front plate, Rear plate, Side plate, Stop valve, Apical plate, Name Plate
Back-end assembly processes include
Remove the assembly line, assemble the stop valve nuts, sound insulation part, and external structure parts and fix the label, nameplate mounting, etc.
Indoor hanging machine assembly
Front-End Assembly -Electronic Control Assembly - Commodity Inspection -Back-End Assembly-General Inspection-Packaging-Finished Product Transmission Line - Finished Product Temporary Storage
The front-end assembly of air conditioner mainly includes:

The front-end assembly of air conditioner mainly includes:
The bottom Frame load and test --- Electronic control load---Electrical control line---Wind guide load ---Medium frame, panel assembly load, etc. (The main parts are removed from the suspension chain.)
Back-end assembly includes:
Finishing piping and power cord, fixing installation board, pasting various labels, general inspection and issuance of certificates, packaging and other processes.
Packaging section includes:
Packing plastic bags - Installing accessories - Installing foam cushioning pad -Loading the carton
Advantage
The assembly line can effectively adjust the assembly process through automatic operation and organize each process reasonably.
Customers can add online inspection and special assembly devices based on demands, implement effective product quality control and equipment operation status monitoring, provide with necessary guarantee for modern large-scale production.
The assembly line can effectively control the production time to improve the stability and assembly efficiency.
Update Required
To play the media you will need to either update your browser to a recent version or update your
Flash plugin
.