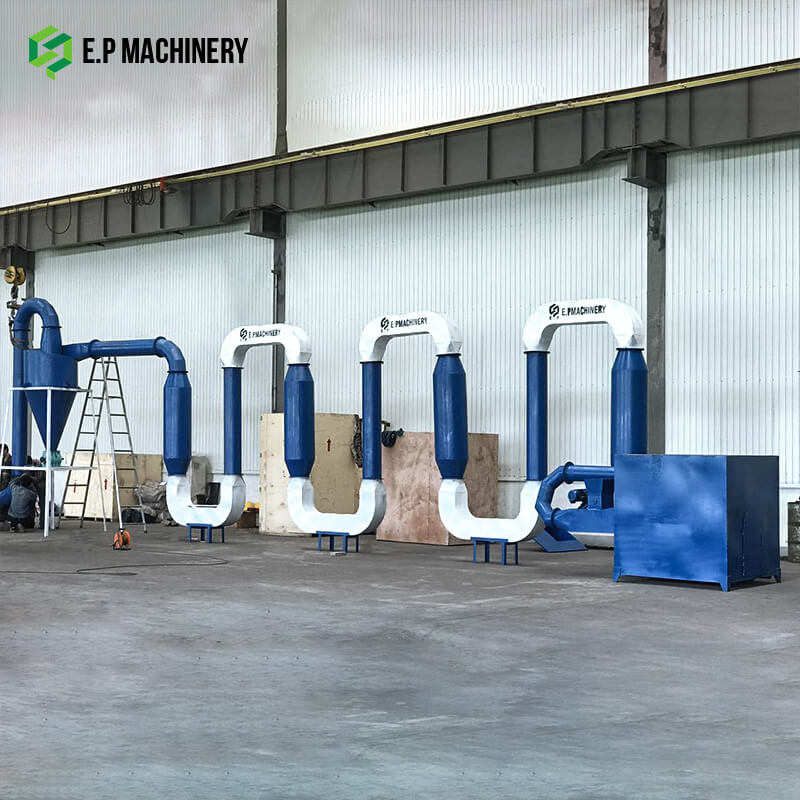 Details
Product Description
Hot air dryer makes the wet raw materials mixed with the high temperature air flow, and finally separating the water from the raw materials through the separator. Hot air dryer use the principle of instant air drying, with the characteristics of large drying intensity, short drying time, less energy consumption, easy operation, good product quality, etc. After drying, the materials have the clean appearance, high fineness, stable water content, small impurity pollution and other advantages. Hot air dryer is an ideal equipment for drying powder and heat sensitive materials.
Applicable raw materials

Applicable raw materials
It is suitable for drying rice husks, sawdust and pulverized shavings, branches, wood chips and other granular materials (diameter less than 3mm, length less than 5mm).
Applicable production line
Biomass pellet production line
Biomass briquette production line
working principle
The working principle of the airflow dryer is to feed the raw materials into the furnace through the inlet through the pipe, which is pumped into the cyclone together with the hot air by the fan. The dried materials are discharged from the cyclone, and the waste heat and water vapor are discharged from the upper of the cyclone.
Advantages
The hot air dryer is equipped with a high-quality air fan, which has better performance and efficiency.
The pipes are made up of round shape and square shape alternately, it will be more efficient to scatter the wet lump, and dry evenly.
Reasonable and high-quality stove, providing with enough hot air.
Easy to install and operate
Square pipe connection, beautiful appearance
Update Required
To play the media you will need to either update your browser to a recent version or update your
Flash plugin
.